Meet the incredible synth maestro KEBU from Finland! His virtuous hands are hitting the notes  faster than electric light surrounded by his army of old school devices he can cover the iconic Giorgio Moroder by himself live ! Just saying ! He will be presenting his new album "Perplexagon" tonight in Urban Spree  from 09pm on supported by a dj set of Bobby Starrr don't miss this opportunity to surf on his harmonic waves ! RSVP here
3 facts that affected your life for ever?
That was the most difficult first question in an interview that I have ever gotten. Having thought about if for an hour… Probably the first fact was being born by terrific parents into the best country to be born into in the world. The second one was meeting my lovely supporting wife-to-be, Heidi. The third fact is very recent, I was awarded a grant for concentrating 100% on my music by Kulturfonden, a cultural funding organisation in Finland. In the end of the interview I will explain why I think it will affect my life for ever.
What motivates your choice to keep recording and playing on the original synthesizers?
First of all – the sound.  Each synth has its own wonderful and personal character that is really difficult to find in new synthesizers. Also, they have a life of their own, so each time I perform it will sound slightly different. However, many of the synth I use are rather limited in what they can do, so this puts a border on what I can do as well. Especially live, I have to carefully plan what synthesizer plays what part, because I do not use any backing tracks or samples. But this limitation gives a certain palette and canvas for me to work with, and pushing the borders of what I can do motivates me a lot. When you make music with a computer you have limitless possibilities and I feel that there are too many choices ñ it is actually quite overwhelming and makes me less creative. Finally, I really like working with hardware. These synthesizers really feel like real instruments and you get an interaction with the instrument that you don't get when playing with a synth that only exists in your computer.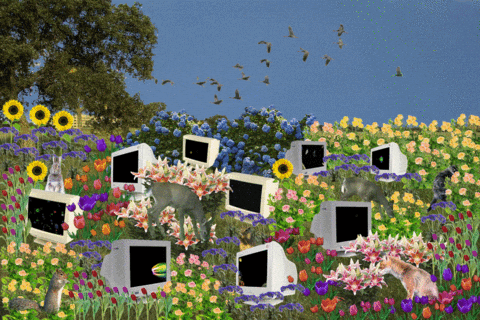 The way you play is very graphical, could you describe how you record in your studio? Don't you miss a few hands sometimes?
Yes, I would definitely need a couple of more hands! That is why I use  a computer as a sequencer (i.e. for controlling the synths) in the studio, but all the synths are playing in realtime and I use a hardware mixer, so I can make adjustments to the song and mix before I record anything. I normally record the tune first when the mix is ready. After that, I still do some overdubbing for recording my oldest synths that do not have any means for being controlled by a computer. So itís a mixture of programming sequences and playing the synthesizers.
How do you elaborate your beats? Does the melody always come first?
When I was younger, the ideas came usually from playing the synths and coming up with melodies and riffs by playing. Nowadays, I get many ideas in the middle of the night as melodies, chord sequences and riffs playing in my head. But these quickly fade so when these ideas come I have to quickly take notes by writing them down on paper or recording them by singing and speaking into my cell phone. Sometimes, it might come from a need  for instance, the last tune for my new album, "Perplexagon", came to be because I wanted a slow and calm short tune for ending my album. While I was recording another tune I suddenly got the idea for the melody and chord sequence by noodling on a synthesizer andthen I instinctively knew that this is exactly what I need for finalizing the album.
Do you collaborate in the development of new music devices?
Not yet, but a couple of hardware synthesizer manufacturers have been in contact with me and I have already given them detail comments and recommendations for minor improvements to their existing products. But I would love to work on the conceptual design of new music equipment. That is definitely something I hope to be able to do in the future.
Is there some room for a jam in your live set or is everything sharply programmed?
The foundation of the song is sharply programmed. My current setup does not unfortunately allow me to change the song structure on the fly. But I play most of the melodies live and especially the solos give me room for improvisation.
Are you missing some buddies on stage to tour with or do you prefer the company of machines?
In my life I have played in about 20 bands, so right now I am very happy to perform solo. But one reason is also the cost right now, I couldn't afford bringing a band with me on tour. Hopefully in the future I would be able to hire a couple of musicians with me. It would give me more flexibility into the music and the arrangements. Also, real people are more reliable than machines: when you perform the concert, musicians tend to do their very best, but machines can decide to take a break or break down in the middle of the concert. Fortunately, it has not happened yet (knock on wood).
Jean Michel Jarre already took the pyramids, and Giorgio the space, what kind of landscape suits your music the best?
Funny that you ask that, because the covers of both my albums are paintings of utopian landscapes, and I think they both give quite a nice visual representation of the music on the albums. But normally when I think of music, I don't give it any visual reference in my mind. The only time I think about it is when I have to, for instance, when designing a light show or designing the graphics for my albums or web pages. It is the same thing with words, I never listen to the lyrics in a song. For most of my favourite songs I have no clue what they sing about. I always listen to the music. That is probably why I do only instrumental music as well.
Comparing your detailed and figurative music with the current flair for abstract and minimal themes in pop music nowadays, do you find it more difficult to write an anthem in 2016?
I haven't noticed any abstract tendencies in modern pop music, but it is true that it is relatively minimal in terms of chord changes and melody, but I think that has probably always been the case for pop music. But there are challenges indeed, because in contrast to the minimal thematic contents everybody expects the sound to be very full, detailed and polished. In addition, the music should fit a very specific genre. The amount of sub-genres nowadays is astonishing, and they have a set of very specific, unwritten, and constantly changing rules on what can be defined as belonging to a certain genre. The popular version of what I do, especially my up-tempo tunes, is basically trance music, but I do not follow the rules for trance music and therefore I don't think anyone would call it trance.
Are you a consumer of trance music?
I wouldn't call myself a trance consumer, but it is in fact the only modern electro genre that I listen to, and although I find most of it a bit too repetitive, there are many gems.
The Scandinavian disco wave has been a real bliss besides Todd Terje, who are your top 5 Nordic disco pals?
Heh, I had to google who Todd Terje is, I hadn't heard his name before. I don't follow modern trends that much, as you perhaps have noticed from the way I look.
My number one is definitely Abba, because I grew up with their music and their music still sounds original to this day! Of modern artists I would name Robyn, because her tunes are really interesting and she manages also to sound original. And that's about it! I know I could have listed Orjan Nielsen, Avicii and Swedish House Mafia as well, but I must say that there are only bits and pieces of their work that I actually like. Most of it is too repetitive, too unoriginal or otherwise not interesting enough. Also, I'm really allergic to auto-tuned vocals.
Your Top 5 composer?
That is easy! Jean Michel Jarre, Vangelis, Mike Oldfield, Mark Knopfler, and Trent Reznor. At least it was the first five that came to mind. I really should listen more to classical music, because I noticed a tendency in my own music lately to go more to the thematic side with motifs reappearing in various shapes. But I do not have any particular favourite composer on the classic side. Perhaps Debussy, I would have to name one.
Have you ever produced music for an Rn'B?
No.
One tip from a musician to another?
Believe in what your gut feeling tells you and be prepared to work hard for what you want to achieve in life.
What is your vision of the future?
It is both thrilling and terrifying. That could also be said about the future of humanity, but I'm now speaking only of myself. I have been awarded a cultural grant for concentrating on my art for one year. But that requires me to quit my current daytime job as a senior scientist, which I enjoy very much, with no guarantee of getting it back in the future. But this is the opportunity I have wanted all my life so I am ready to take the plunge in December and start working 100% on my music. I think that if I worked for a couple of years I might be able to build up enough momentum and a large enough fan base for supporting myself. But it would take several years and I only got one year. So although it is terrifying, I look forward to it very much! I feel that for taking my music forward I really need to give it all I have, and that is what I will start doing, very soon now.